Jillian Love is a beautiful incredible woman. She's been eating raw food since the previous millennium and her youthful attitude, attire and appearance all testify to the benefits of a conscious raw lifestyle.
I voted for her video in the
Hot Raw Chef
contest, which is as follows:
This past Sunday, February 6th 2011, Jillian had her second potluck of
her new meetup group, Raw Revolution Conscious Cuisine
.
I was honored to be a part of the celebration with other amazing people there such as John Kohler, the owner of
discount juicers
, Amber Zuckswert, a beautifully fit pilates teacher, professional dancer and yogi and the owner of
Epic Self
, and
Trevor Justice
.
I had a fabulous time talking with the variety of people who attended -- nineteen different people with vastly different backgrounds all coming together to share one of the healthiest meals under the face of the sun. I guarantee it was the most delicious, nutritious, elaborate and beautiful meal that anybody in San Fransisco had that day, for certain.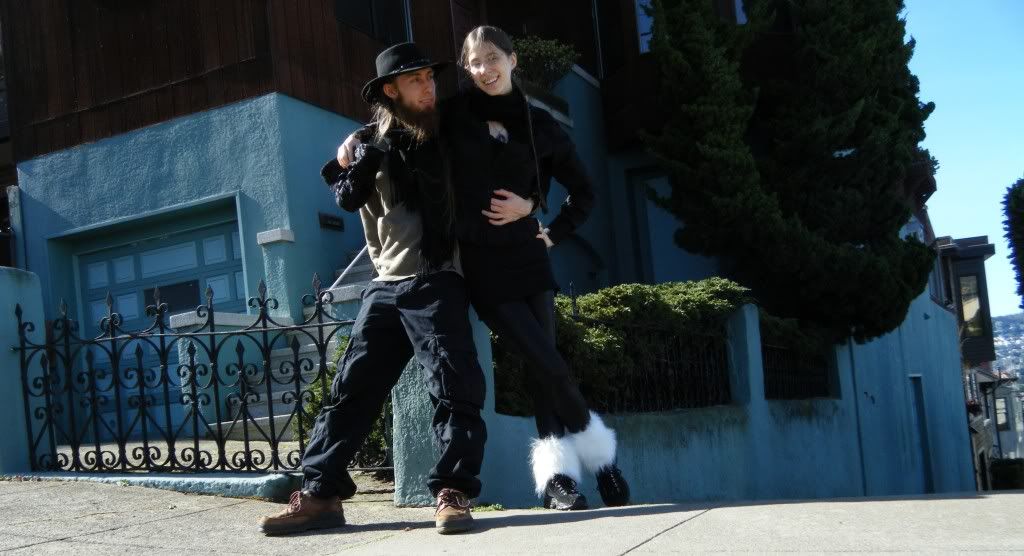 It was a beautiful day outside, so we snapped a photo before we went in: My husband & I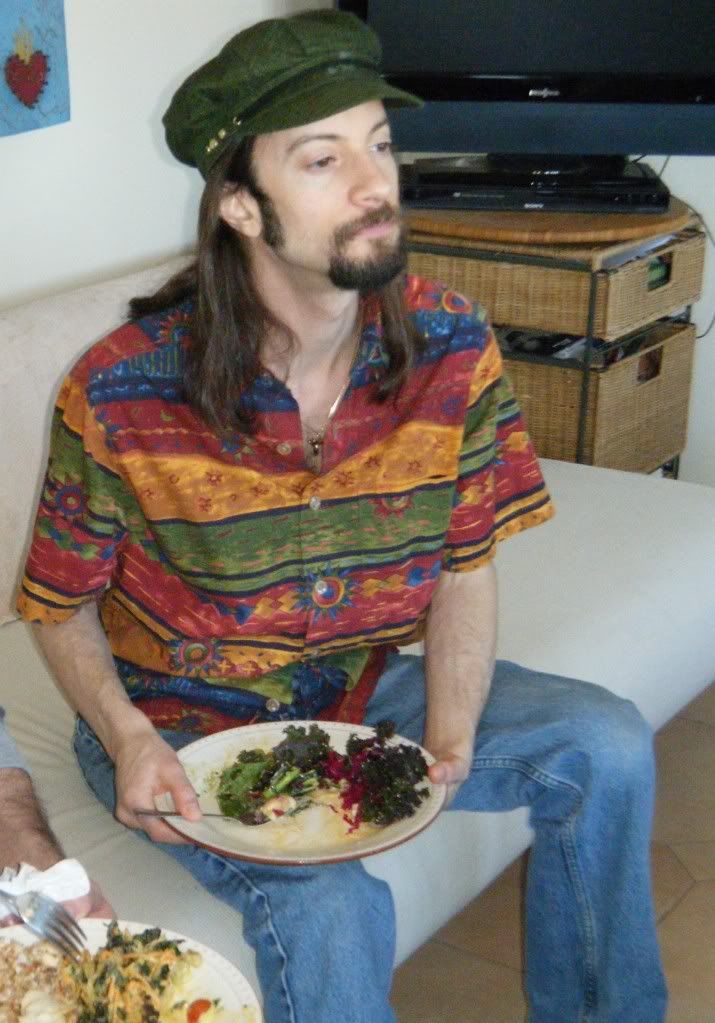 Trevor Justice, listening to Jillian with his "I'm listening" expression
In most of the photos the windows just appear as this bright white glare, but in this photo you can see the amazing view behind us: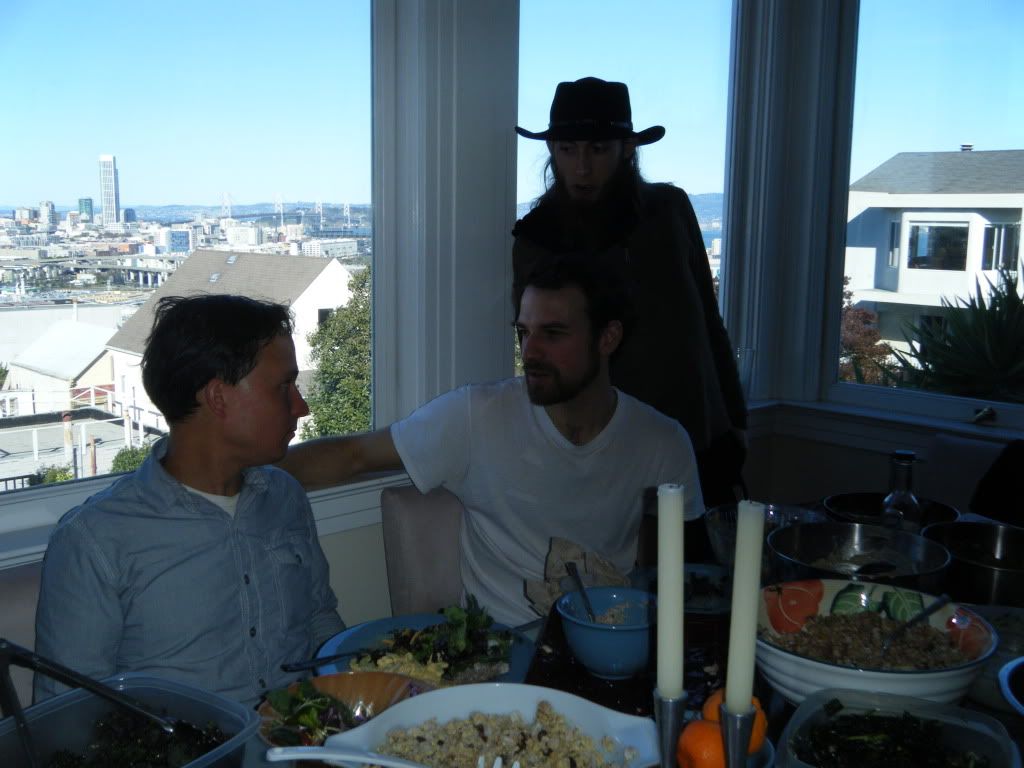 John Kohler, Jonathan Brody (an awesome guy who makes raw bread from sprouted grains), and Jay Paul Jacot (my husband - the beautiful blond with the silly facial expression)
Everyone comes hungry and leaves full at an event like this. Anyone who has a fear of "not being able to get full" should definitely attend some raw potlucks with people who walk the talk. By the end, everyone was so full we had little room left in our bellies for dessert.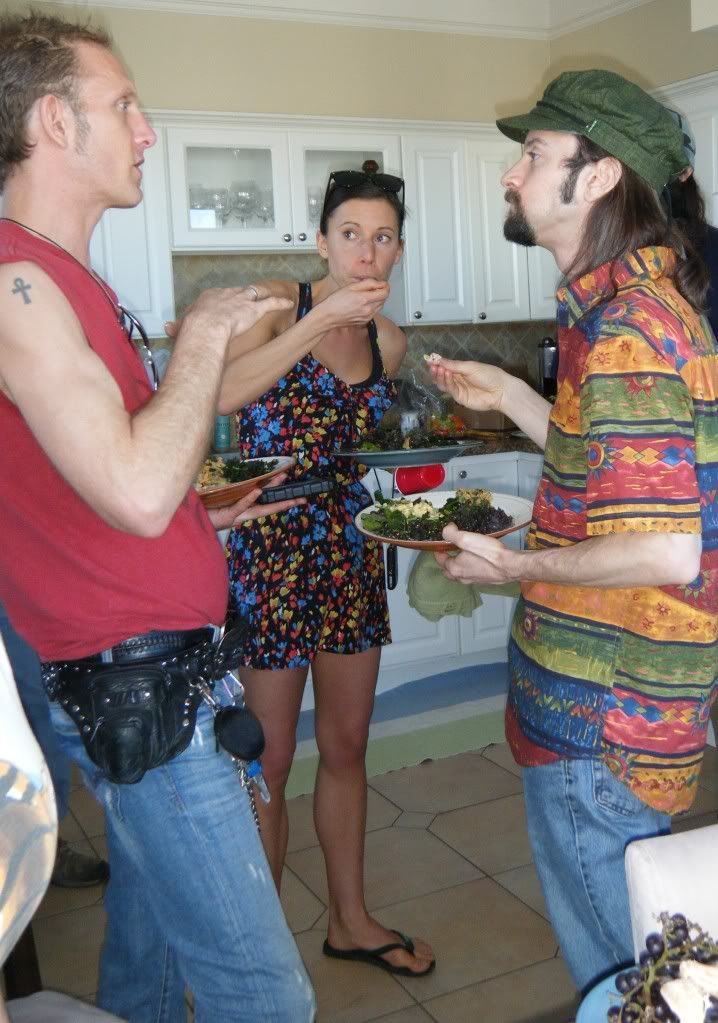 Neptune, Amber and Trevor Justice enjoying their fill while discussing the many mysteries of the universe
Jonathan Brody, a very interesting man who my husband got to talk to more than I did:
In his profile on the meetup group: "Hello! I am a living foods coach and a former cafe chef at The Tree of Life Rejuvenation Center in Patagonia Arizona, among other things."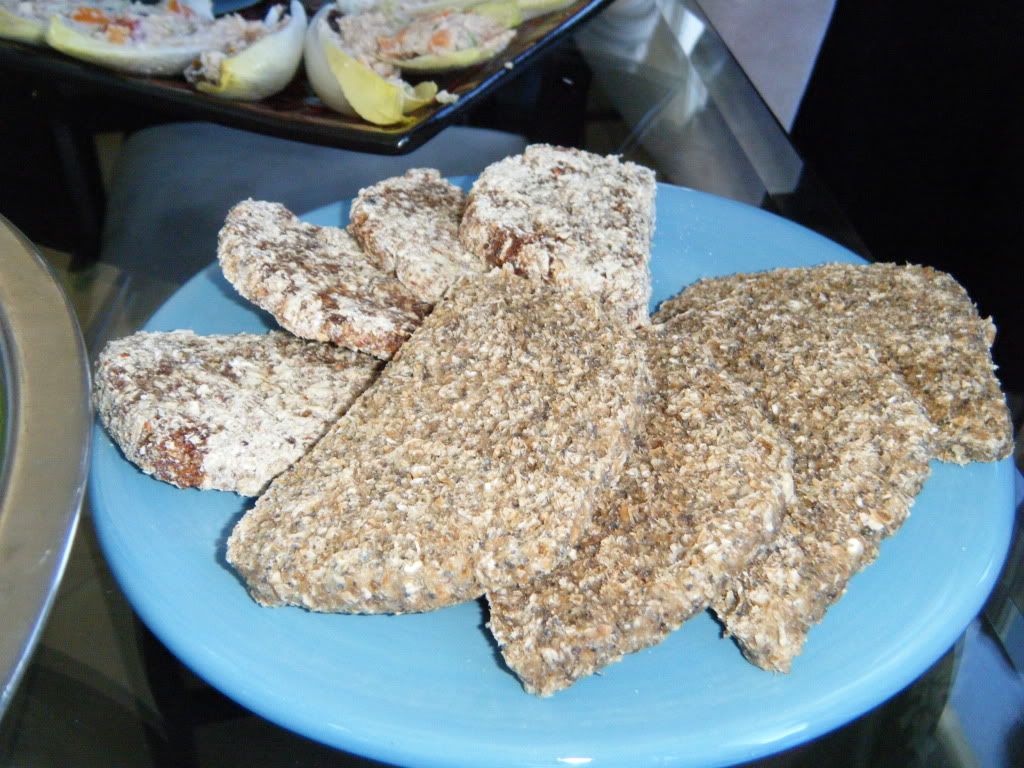 This is the "raw bread" that Jonathan Brody makes -- it was absolutely wonderful
Raederle Phoenix -- me -- February 6th 2011, at the "Dollhouse" at the Raw Revolution: Conscious Cuisine second potluck
I brought two dishes to the potluck, a dessert and a wild mustard hemp-seed salad. Here is me holding the salad:
Raederle Phoenix; me
Jillian Love, Trevor Justice, Tim Canale and my husband Jay Jacot
Shortly before we began to eat we went around the table and everyone talked about what they brought. This is important for a few reasons: Some people get onto the raw diet because they have unusual allergies that the raw diet circumvents and allows relief from, but others still indulge in various things that they do not. Some do not eat soy sauce, some do not have any nutritional yeast, some, like myself and my husband, do not consume any agave.
Another reason it is important to discuss what everyone brought is so that you have an idea of what you're going to like and can put a reasonable amount on your plate. If you have no idea whether or not a dish is spicy, for example, that can affect how large a serving you grab at your first chance at it.
And, possibly the most important reason, is so that everyone learns something new. Everyone leaves with new ideas and inspiration.
Jillian Love, Trevor Justice and Jonathan Brody -- Tim Canale is holding the fancy camera just outside of the frame of this shot
Neptune's "Tuna" Wraps
Lauren brought this spicy sweet salad with avocado, spicy pepper and an array of leafy greens:
Lauren's spicy salad (in front), Jillian's Apple "Muesli" (just behind the spicy salad), an avocado kale salad to the left of those, and Neptune's "Tuna" Wraps to the right
Anne Morton's dip (which went very well with Johnathan's "bread") is in the front, Trevor brought the Raw Sauerkraut
My wild mustard and hemp seed salad is at the front; the yellow flowers are from the wild mustard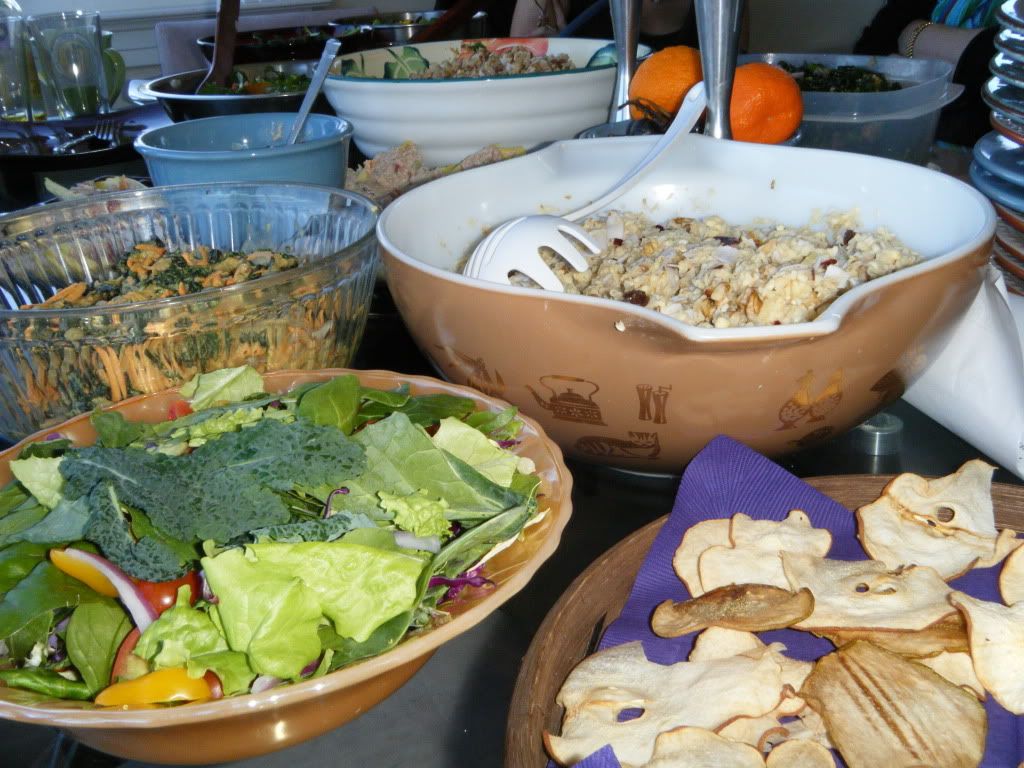 Pear chips in the bottom right, an salad medley to the left, and to the upper right is a mildly sweet grated vegetable dish
Neptune's "Tuna" Wraps
Amber
is a beautiful strong woman of character and mystique but not at all imposing. Her warm presence is enjoyable and her eyes let you know that she is really listening.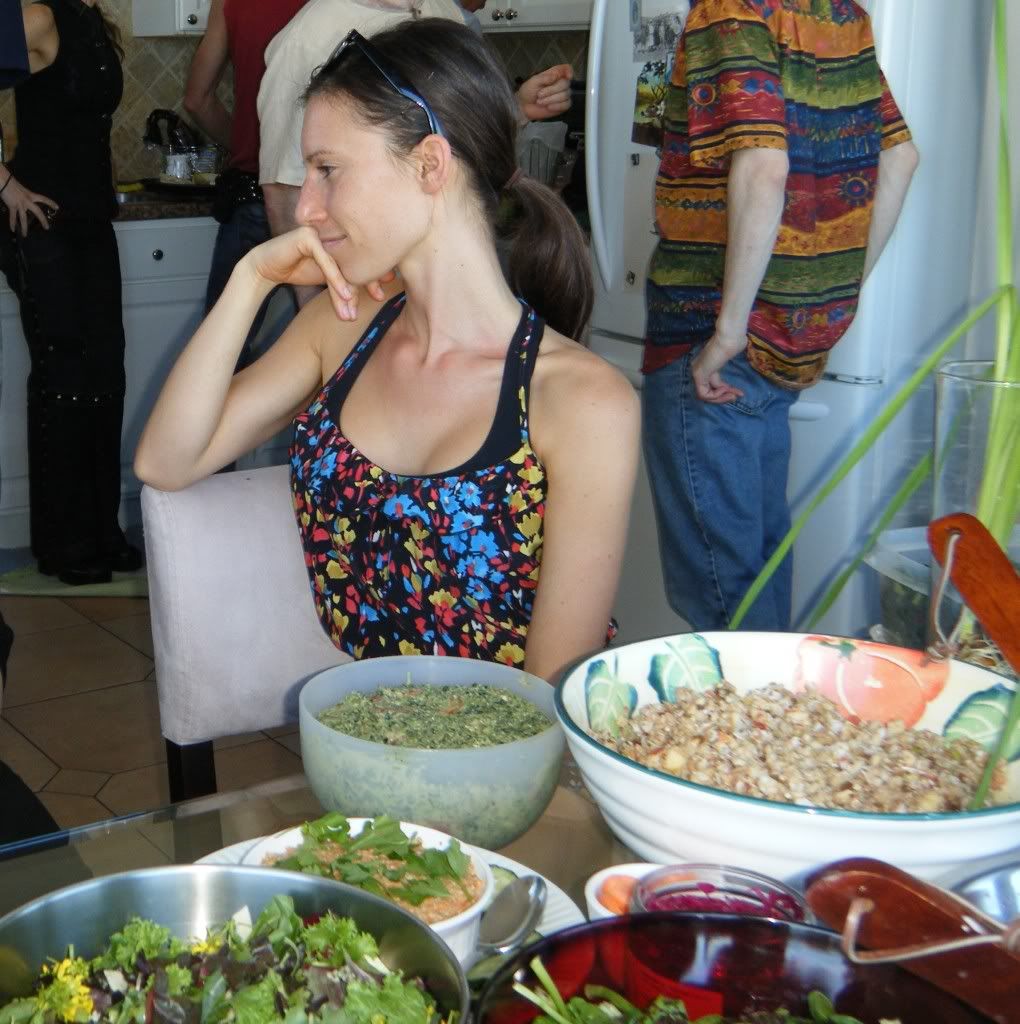 Amber Zuckswert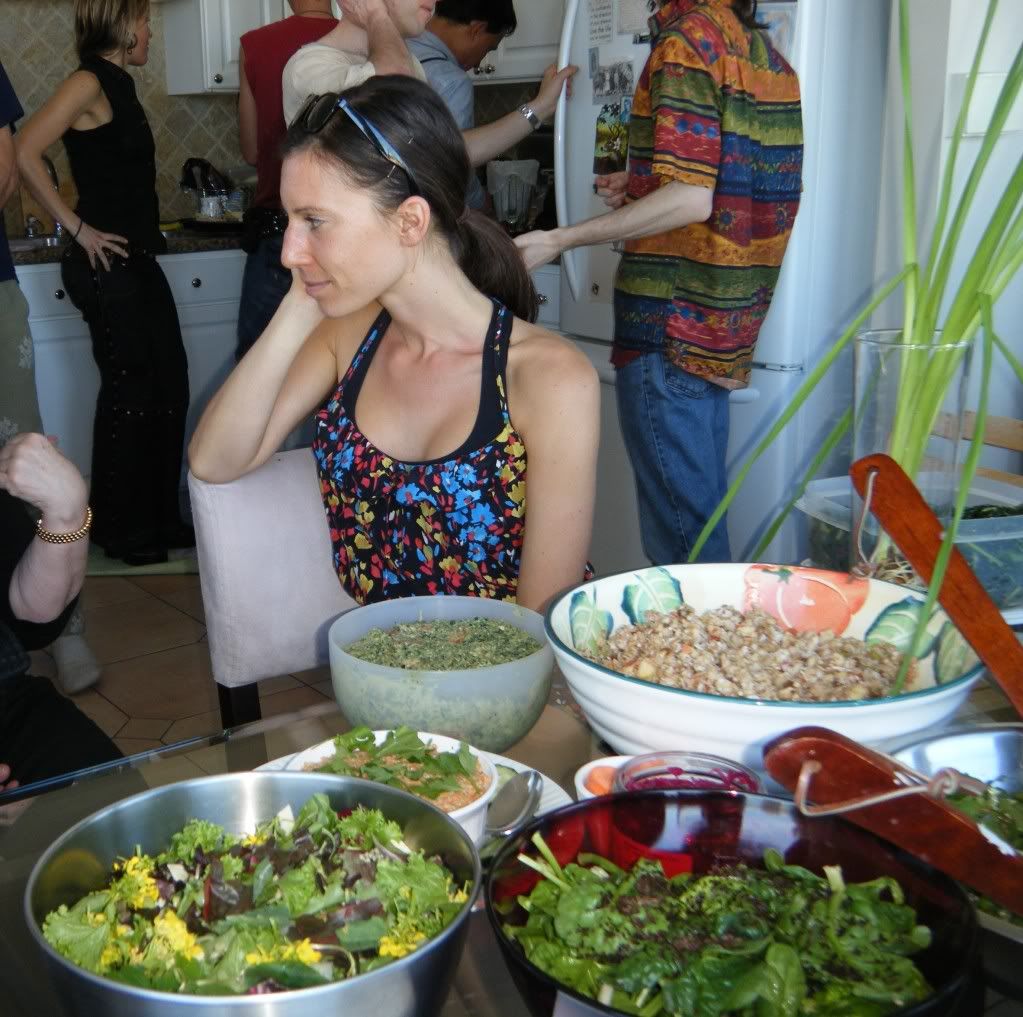 In this photo you can also see Jillian in the background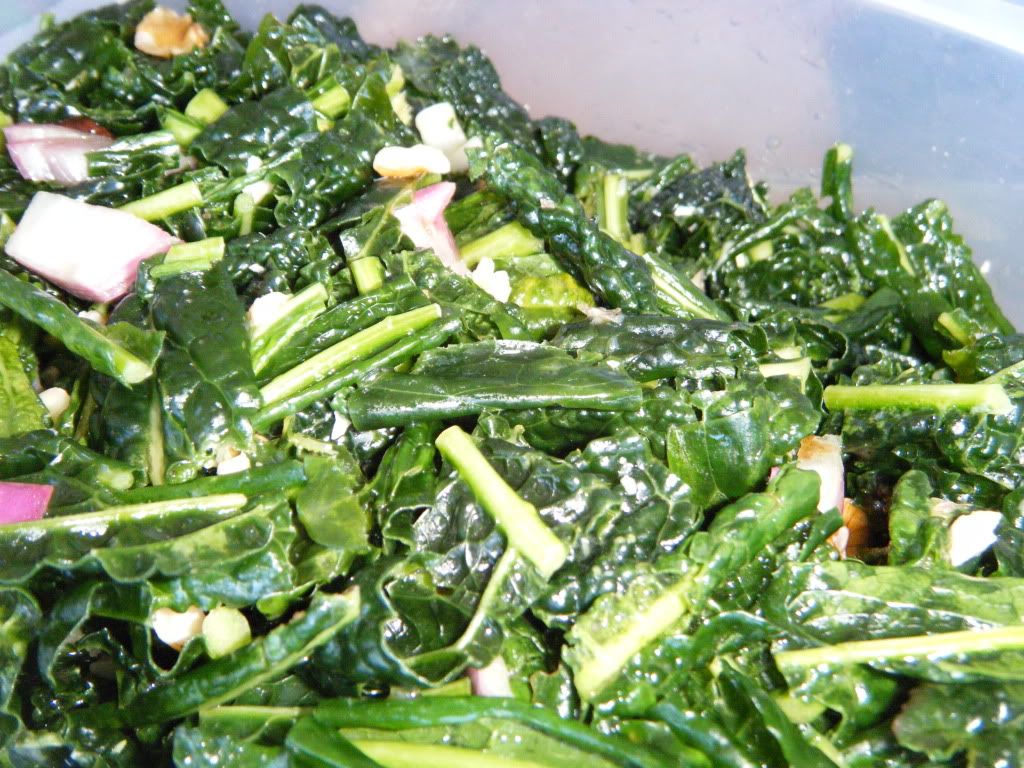 One of the many delicious kale salads
Grated vegetables, apples and dried fruit
Pear chips, that were delicious with a nut-cheese spread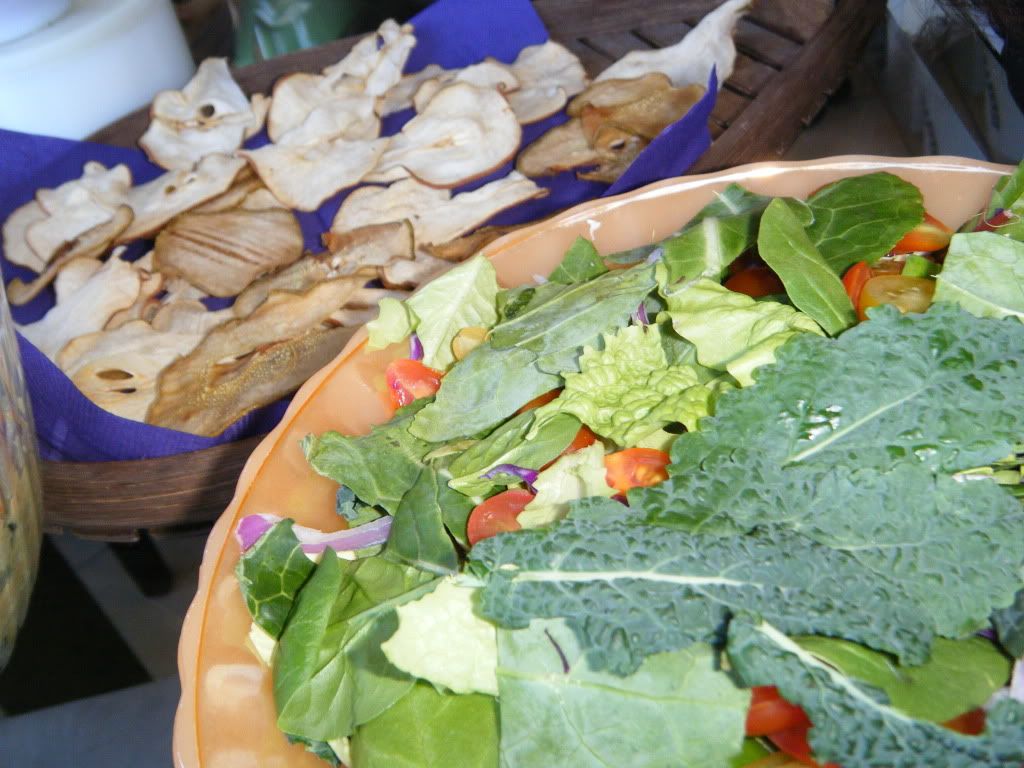 Another kale salad variation, delicious and nutritious both!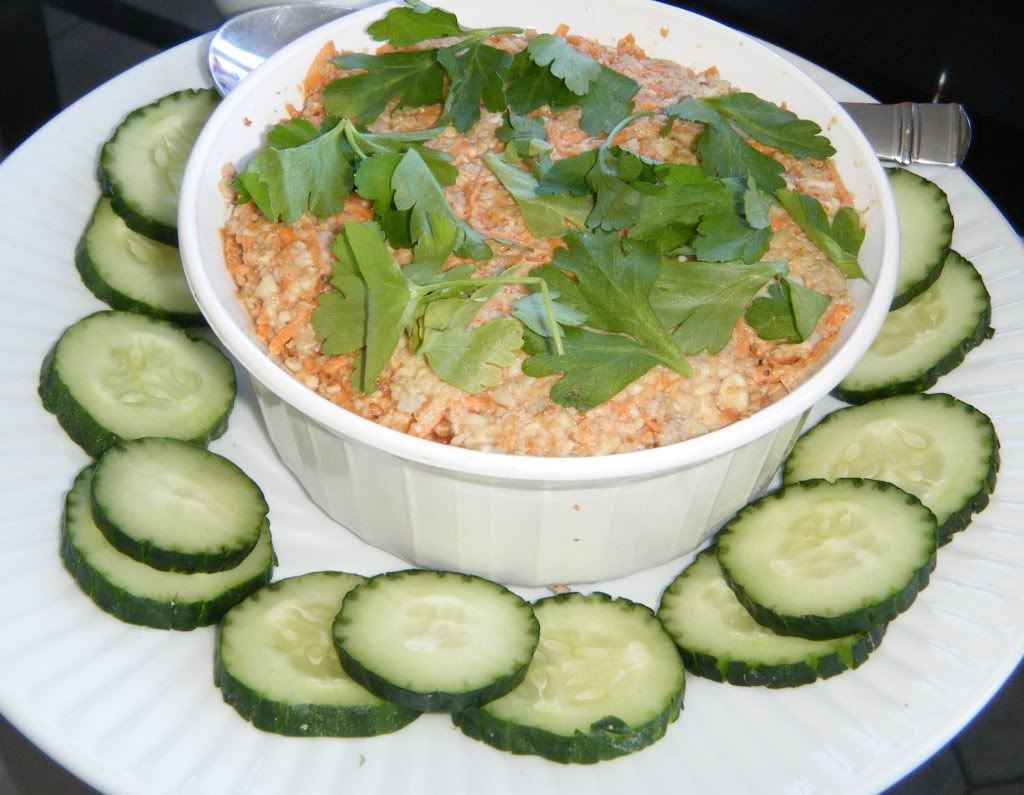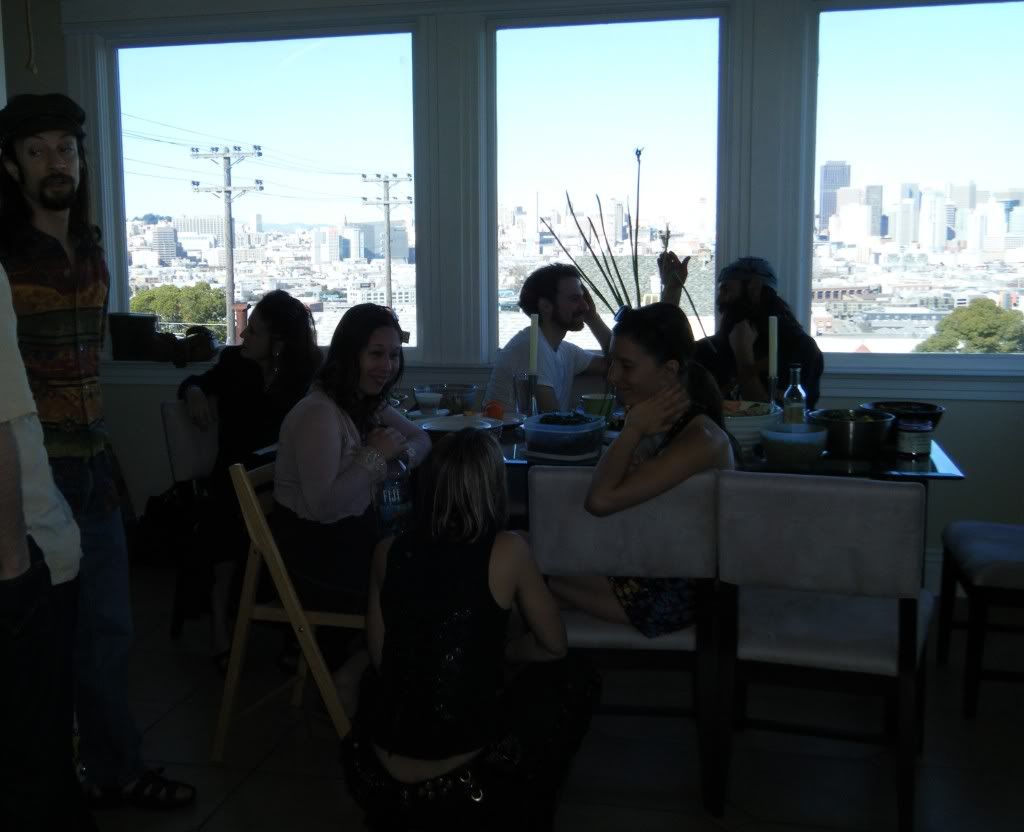 Get a load of that fabulous view -- San Fransisco, amazing people and amazing food

Before we ate, Jillian talked to us about how to make Kombucha, a process of creating probiotic tea.



Jillian Love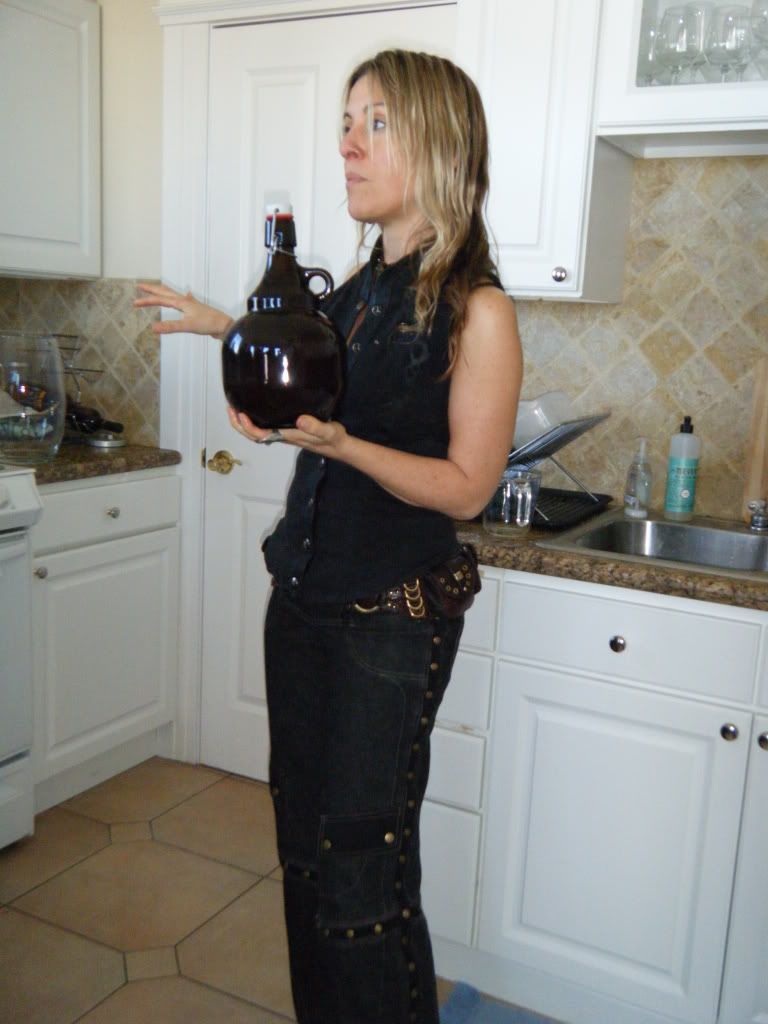 Jillian Love with a jug of her own home-made kombucha
As soon as it was time to begin digging into the mouth-watering dishes filling the table, I loaded up my plate with happy relish:
My plate on the first helping
After everyone had gorged on the various delicious dishes, I put together a nut-free raw recipe invention of my own, a Spicy Strawberry Pie. I blended it fresh, as this is the most healthy way to consume it.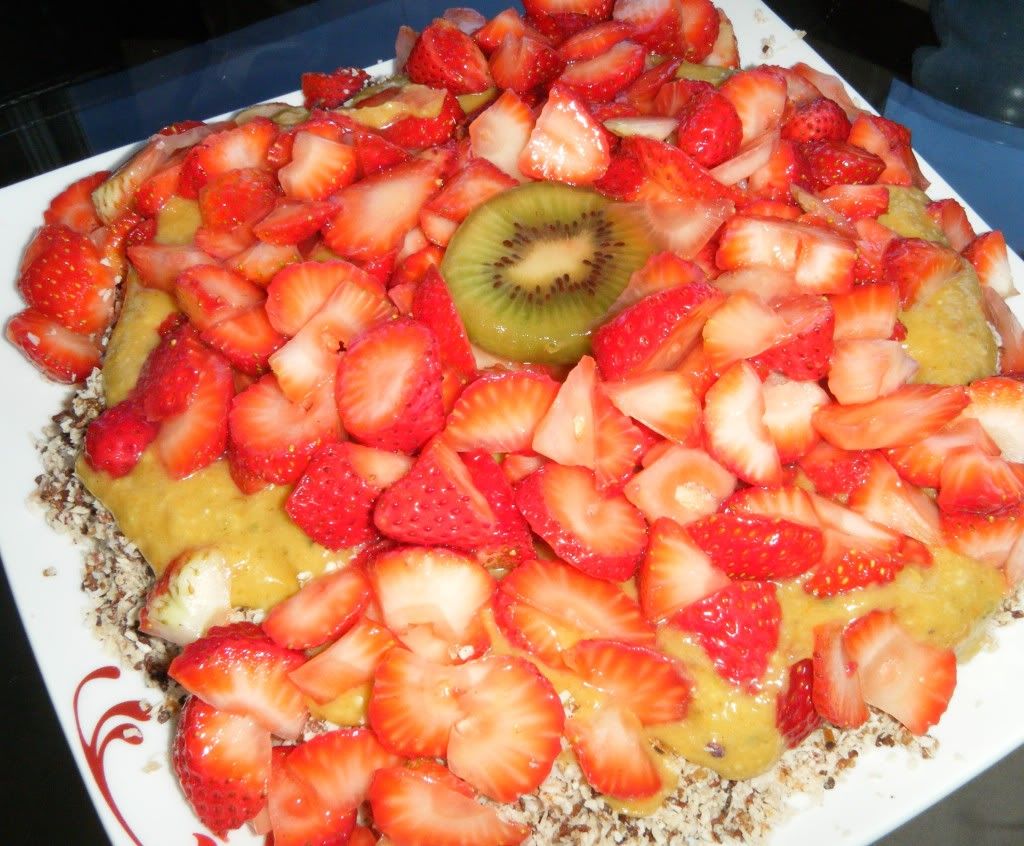 Raederle's Spicy Strawberry Pie
The crust is made from coconut shreds, cocoa nibs, and dates. The filling is made from coconut curry soup (which includes ten ingredients), avocado and banana. The strawberry topping is chopped strawberries soaked in fresh-squeezed lemon juice.
My first helping (of several):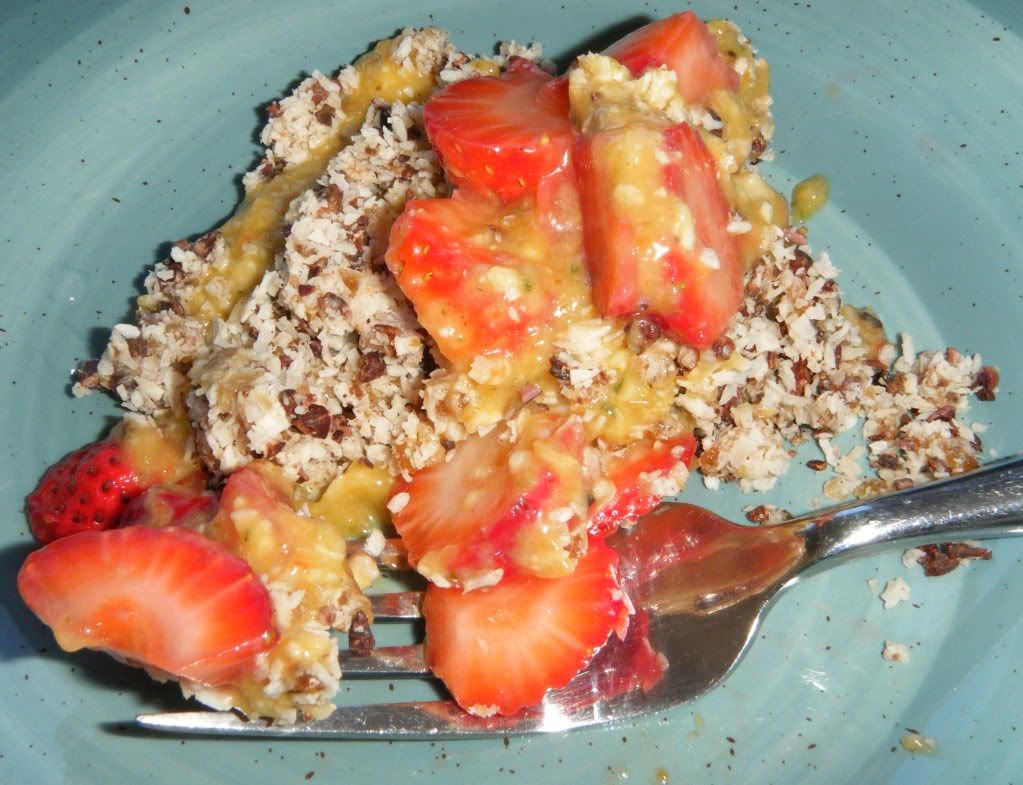 Raederle's Spicy Strawberry Pie
Many people were too full to even try it, but everyone who tried it was amazed at the combination of spicy flavor and the light sweetness of berries and coconut. There were many wide-eyed pleasantly surprised expressions when I explained that my recipe didn't use any nuts. I've learned now that using excessive amounts of nuts is a mark of an beginner raw foodie.
The entire event from beginning to end was full of fun moments. I'm looking forward to a potluck in Berkley this Saturday early afternoon as well as another one in San Fransisco that evening! I hope I will be up to make the second one after the first one, as the second will also include pilates and yoga with Amber!
---
Another amazing thing is happening this weekend, something I am not able to afford at full price. My husband and I are saving up to move (at the end of March) and are watching our spending very carefully. The rent rate is rising, and the overall area is becoming more and more expensive to live in, meaning less extravagant expenditures all around. My dork of a husband most likely is feeling the hurt in the inability to buy fancy new computer equipment.
Jillian, generous and genius both, has offered a deal for a couple attending her amazing retreat next Sunday for the price of one person. As my husband's birthday is February 11th, and valentine's day is February 14th -- we've felt like we ought to do something special to celebrate, but it's already February 8th and we don't have particular plans to celebrate either.
Tonight has been a late night for my husband -- he's only just now packing up the computer parts at 11:30pm. He's picked up a side job of fixing a computer for an old client and has been working on it after-hours the past couple nights.
This video is an appeal to Jillian about our need for a retreat.
Thanks for reading!
Namaste

~ Raederle Phoenix
---
My work,
"Obvious Conspiracy"
now has an audio download of my voice reciting the work. Download and listen as you read!