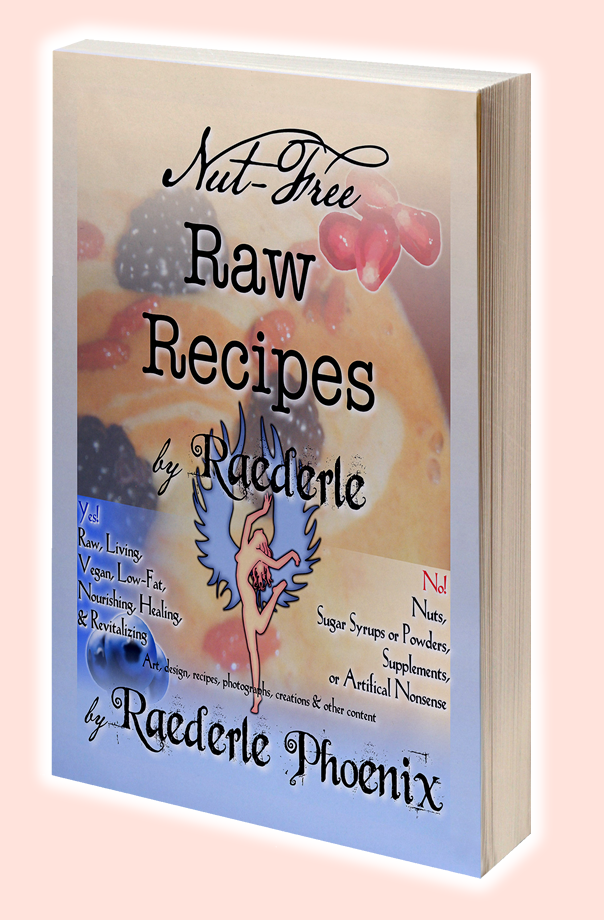 Thank you for purchasing my first recipe book; Nut Free Raw Recipes by Raederle.
You're supporting a hard-working woman who is careful to spend every dollar with meaning. Notebooks are made from recycled paper, banana paper or ground stone. Clothes are bought from local businesses, thrift stores, and green-minded companies. Food is grown as much as possible, bought organic, wild and local as much as possible. Cleaning products are non-toxic and come in recyclable containers as often as can be. Body products are organic or home-made from plants. When you support Raederle & Jay's operations with your dollars, your money is spent in turn on worthy causes.
You will receive your e-book in your e-mail-box in two to forty-eight hours.
All photographs, recipe ideas, artwork, formatting, writing, etc, involved with the book are work of Raederle Phoenix. Do not steal or copy her hard work.
If you do not receive your book within forty-eight hours, send an e-mail to raederle@gmx.com with the title: Missing Recipe E-Book
If you have comments, questions or suggestions your messages are most appreciated if sent to Raederle via her facebook which you can access by
clicking here.
Thanks again.